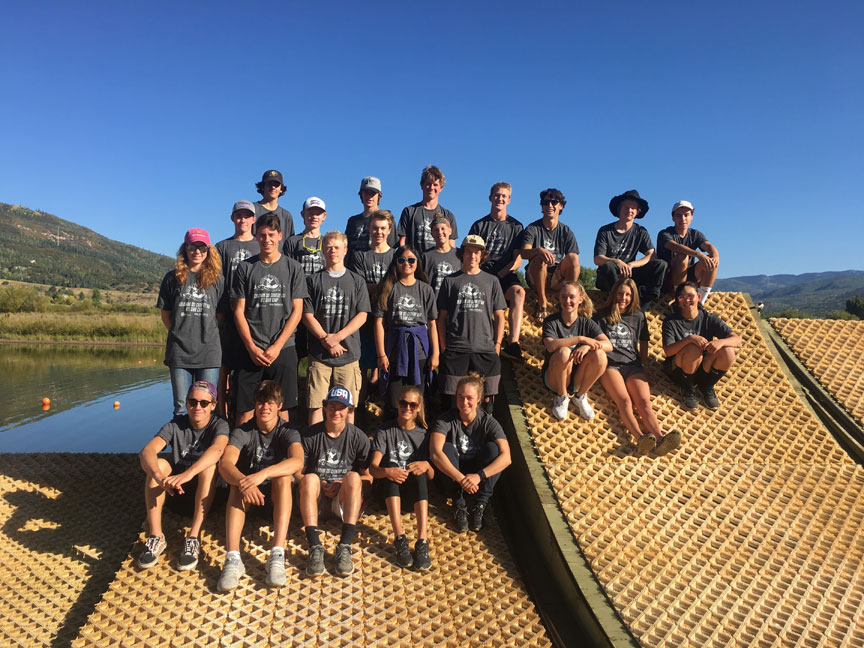 Colorado Ski Country USA and The Rocky Mountain Division announce a Colorado All-Star Team. The Colorado All-Star Team represents the best skiers in Freestyle in the rocky Mountain Division. Colorado Ski Country USA has allotted 19 Gold Passes to Freestyle, good for unlimited skiing at each of their member resorts. After Vail Resorts withdrew from Colorado Ski Country USA, Vail Resorts also awarded Vail Resorts passes to All-Star Team athletes. Rocky Mountain Division (parent organization for Rocky Mountain Freestyle) provides 19 All-Star Team jackets or backpacks to the deserving athletes. The current Colorado Ski Country USA Freestyle All-Star Team size has 19 positions but could be reduced in the future.
The purpose of Colorado Ski Country USA's All-Star Team is to help Colorado athletes with their training and competition expenses in "Going for the Gold."
Selection Criteria
1) Only Colorado residents with a Colorado mailing address are eligible. Three-year proof of Colorado residency is required.
2) Athletes must have been active members of the US Ski & Snowboard Rocky Mountain Division (RMD) for the past three years with no lapses in membership. RMD must be your home division for those three years and RMD divisional dues must have been paid. Athletes must have competed in two Rocky Mountain Freestyle events and the RMF Divisional Championships for each of those three years. Members must be in good standing with US Ski & Snowboard and RMD.
3) Current US Ski Team members are ineligible. Further, they are removed from the US Ski & Snowboard points lists for all remaining calculations.
4) From the season-ending Points List #5 of the previous season, those athletes who are both in the Top 5 and Top 5% of their respective discipline lists are selected to the All-Star Team. For some disciplines, the "top 5%" criteria may be the limiting factor, resulting in only two or so eligible positions. For other disciplines, the "top 5" criteria is the limiting factor. This selection criterion typically results in a list of approximately 12 athletes.
5) Next, only those disciplines that are 2022 Winter Olympic Sports are further considered. This eliminates Dual Moguls from further consideration. Athletes from these remaining disciplines are ranked according to their percentile rank and selected to fill the remaining spots to reach a team size of 19 athletes. For example, a Mogul skier in 15th position of 245 athletes (6.1%) would be named to the All-Star Team.
6) Typically, five alternates are named using the same criteria. Alternates will earn a spot on the All-Star Team only in the event of retirements of athletes nominated to the Team who are above them on the list and from physical assessment testing no-shows of other athletes nominated to the Team who are above them on the list.
7) All-Star Team nominees must accept their nomination by the nomination deadline as determined annually along with any supporting documentation requested. Failure to do so will result in the nomination being withdrawn.
8) All-Star Team nominees are required to participate in the All-Star Camp and attend Physical Assessments. This is usually the 2nd weekend in September. No exceptions will be made to this requirement. Failure to participate in this requirement or any other All-Star events will automatically forfeit the nomination.
9) All-Star Team nominees must also agree to participate in a minimum of three (3) Rocky Mountain Freestyle events during the season, one of which must be the Division Championship event.
10) They are required to sign a contract agreeing to these and other terms before receiving their All-Star Passes and Team Jacket. Athletes will receive their passes and jackets at the Fall Festival banquet in October (usually the 2nd Sunday) which they are required to attend.
11) If the number of All-Star Team spots is revised by Colorado Ski Country USA in the future, the first selection criteria will be revised to be 25% of the total number of All-Star passes issued (rounded up to the nearest whole number). For example, if CSCUSA reduces the number of All-Star athletes to 10, the first selection criteria would be "Top 3 and Top 3%" [10 x 25% => 3]; if they were to raise it to 40 athletes, the first selection criteria would be "Top 10 and Top 10%" [40 x 25% => 10].
12) There is no injury clause or other exceptions to the above rules. Each athlete must re-qualify for the All-Star Team each year.
Athlete Responsibility
Membership on the All-Star Team comes with responsibilities that must be met.
1) As mentioned above, successful attendance at All-Star Camp and completion of the Physical Assessment is required. It is the athlete's responsibility to arrive at the All-Star Camp and Physical Assessment physically fit and ready to demonstrate their athletic preparedness to RMD officials through a series of prescribed physical fitness tests. Athletes who are temporarily injured or ill are still required to attend the Physical Assessment to help conduct the tests; injured or ill athletes are expected to be well enough to fulfill the other responsibilities of the All-Star Team during the regular ski season. In other words, the injury cannot be a "season-ending" one that would prevent an athlete from competing normally during the upcoming ski season.
2) All-Star Team athletes must agree to a Code of Conduct and sign an acknowledgment of that Code of Conduct.
3) All-Star Team athletes must write Thank-You letters to Colorado Ski Country USA and Vail Resorts prior to receiving their season passes from these organizations.
4) All-Star Team athletes are required to compete in a minimum of three (3) Rocky Mountain Freestyle Competitive Series events during the competition season. One of those events must be the Rocky Mountain Freestyle Division Championship event. An event is defined as one result on the appropriate US Ski & Snowboard Points List. The purpose of this "three-competition" responsibility is to demonstrate a commitment to the Rocky Mountain Division; by competing in Rocky events, the All-Star Team athletes are bringing their high US Ski & Snowboard points back to the Division so that younger, up-and-coming athletes have a chance to compete against the best in our Division and earn higher US Ski & Snowboard Points as a result of these head-to-head competitions. The hope is that these younger athletes will raise their own competitive abilities and improve their standing in the national rankings.
5) If an athlete suffers an injury that would prevent him or her from fulfilling his or her three-competition responsibility (e.g. a season-ending injury), he or she must provide medical documentation supporting his or her condition. Depending on the nature and severity of the injury, the athlete may be asked to surrender his or her All-Star Team passes to RMD officials. An athlete who fulfills the terms of this injury exemption may re-qualify for the next season's All-Star Team if he or she meets the Eligibility Requirements as outlined in the above section; specifically, the athlete must still qualify based on their US Ski & Snowboard's points even if he or she was injured.
6) Athletes who accept their position on the All-Star Team and fail to fulfill the responsibilities may have their season passes invalidated ("hot-passed") and will be ineligible for the All-Star Team for a period of three (3) years even if all other requirements are met.